What makes MUMBO SAUCE so delicious?
The incomparable taste of MUMBO BBQ SAUCE starts with the freshest ingredient lineup, including a unique proprietary blend of aromatic spices. While MUMBO SAUCE has lots of great flavor, it does not have any: gluten, preservatives, artificial flavors, artificial colors or MSG. What's more, MUMBO SAUCE has less sodium, sugar and calories than most brands on the market. Striking the perfect balance between sweet, tangy and spicy, MUMBO enhances the flavor of meats, seafood, chicken, veggies, and even stews. Delicious right from the bottle, our versatile tomato and vinegar base sauces are excellent for grilling, barbecuing, cooking and dipping. So whether you're cooking indoors or out, our mouthwatering flavors will make your taste buds stand up and dance!
---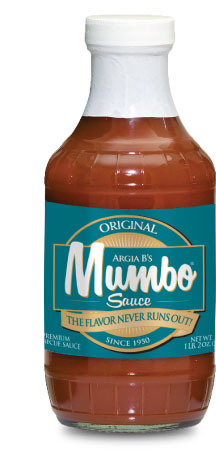 Original
The signature sauce made famous at Argia B's rib houses in Chicago. Mild yet zesty, great for dipping or as a flavor enhancer for your favorite recipes.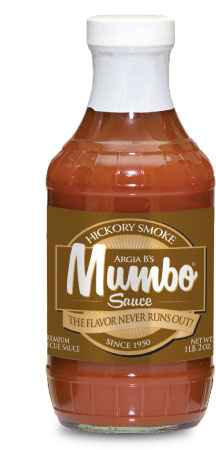 Hickory Smoke
A favorite of rib connoisseurs who enjoy a smooth smoky flavor and aroma, without a "harsh and ashy" aftertaste.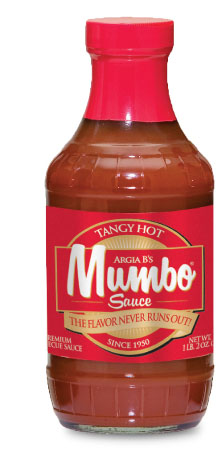 Tangy Hot
For those who want to kick it up a notch! Spicy and sweet with just enough heat.
Nutrition Information
MUMBO SAUCE delivers authentic homestyle flavor with fewer calories, less carbs, sodium and 
sugar than most national brands. Compare MUMBO SAUCE to the national brands.
Compared to national brands MUMBO SAUCE contains:
Lower Sodium
Lower Sugar
Fewer Calories
INGREDIENTS: Water, Sugar, Tomato Paste, Distilled Vinegar, Modified Corn Starch, Salt, Soybean Oil, Spices, Garlic Powder, Onion Powder, Paprika, Natural Smoke Flavor, Lemon Juice
BRAND
---
MUMBO® SAUCE
MASTERPIECE
SWEET BABY RAYS
KRAFT
OPEN PIT
BULLS EYE
CALORIES
---
30
60
70
50
50
60
SODIUM
---
180mg
240mg
290mg
330mg
450mg
450mg
CARBS
---
7g
15g
17g
12g
11g
13g
PRESERVATIVES
---
None
Yes
Yes