MUMBO® BAR-B-Q SAUCE. Original. Authentic. The Flavor Never Runs Out!
We know delicious barbecue sauce, after all, we've been making it since 1950, one mouthwatering batch at a time. For generations, the legendary flavor of MUMBO BBQ SAUCE has tantalized the taste buds of diehard flavor seekers from coast to coast. At rib joints, wing spots, backyard barbecues or in the kitchen, MUMBO SAUCE has the flavor you crave.
Crafted by Chicago pit master and entrepreneur Argia B. Collins, MUMBO SAUCE strikes a perfect balance between sweet, tangy and spicy. Prepared with natural ingredients, including an heavenly blend of aromatic spices, MUMBO SAUCE enhances the flavor of meats, seafood, chicken, veggies and more. Versatile as a condiment and cooking sauce, our loyal fans all say the same thing about our brand "I put MUMBO SAUCE on everything!" That's music to our ears!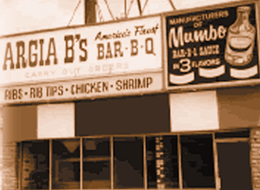 Our History
Want to know more?
Discover our saucy story.
---

MUMBO Recipes
Check out our fan favorite
recipes and cooking tips!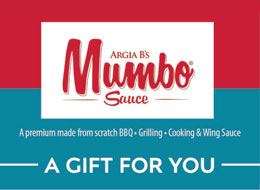 Buy Online
Buy MUMBO products for yourself.
Buy Gift Cards for your friends!