Select Brands, LLC's CEO Allison Collins has built a lifestyle around a family love that spills over to her love for Chicago, Chicagoans, and summers in The Windy City. As the daughter of business legend Argia B. Collins Sr., she cannot help but find inspiration and love where her father prospered and supported others in the communities that supported him. 
What are some of  your favorite things about Chicago summers?
There are so many things but the best place to start is Bud Billiken Day, which is like one big family reunion. Bud Billiken Day brings excitement each year to folks all across the City.  Friends, family and visitors line King Drive Boulevard jockeying  for the best spots to park their lawn chairs or for a seat on the curb. Bud Billiken is the best show in town with the marching bands swinging, the Jesse WhiteTumblers executing sky high somersaults and the drill teams twirling like there's no tomorrow. Talented youth from every neighborhood strut their stuff making Chicago's south side proud to celebrate the excellence and creativity that they share with us.
There are other personal favorite activities, please share. 
Chicago has amazing summer events and I tend to be drawn to the events that are heritage-oriented, family-friendly and involve home. Chicago Shakespeare in the Park offers phenomenal programming year-round but in the summers there are a wide-variety of free and affordable educational and cultural events there for the entire family.  
Chicago SummerDance in the Parks is something I don't want to miss. For a solid hour, you can receive dance instruction that embodies the City's diversity. There is, however, a Chicago favorite and that's House Dance days, where people from all walks of life dance to house music. What's Chicago without house music? 
I find that the Chicago Riverwalk is one of the best ways to get to know Chicago in the summers. It is also a great place for family outings but also romantic date nights with events like Art on theMART, which lights up and showcases our beautiful downtown skyline. 
As an avid gardener I am partial to the CHICAGO FLOWER & GARDEN SHOW® that has pivoted magnificently during the COVID-19 crisis with garden and flower trucks as well as socially-distanced expos. 
Being young at heart with children means pure joy with summer trips to the zoo to not only see the animal life but also participate in educational programming and attend events. 
Yet, the perfect staycation involves personal time and some family time gardening and relaxing in our backyard. There's nothing like tending to flower beds and shrubbery as well as introducing my children to growing and eating food grown with their own hands.
Our backyard retreat and some of the bounty from the garden.
Livvy's squash – before and after.
You're also fond of Chicago heritage brands of food. Name some favorites. 
I try to support heritage brands like my father did. Some of these vendors share similar family stories of migration to Chicago and developing strong enterprises that are family-centered. The Damron Tea Company offers a diverse portfolio of teas for consumers and businesses. Michele's Honey Creme Syrup is a brand that deserves merit for not only making one of the most delicious syrups based on a family recipe but for being owned and operated by a Black woman. 
Tasty Delite Seasoned Coating Mix is perfect for summer fish frys and for coating up homegrown green tomatoes. Plus, it contains no GMOs and MSG. Shawn Michelle's Ice Cream is homemade with great flavor and dietary options like their vegan menu. It is a wonderful treat for ordinary summer days and extraordinary summer feasts with family and friends. Sip & Savor Coffee Shop is the place to go to catch up with friends or go alone to savor a hot or cold coffee or tea blend with one of their signature baked goods.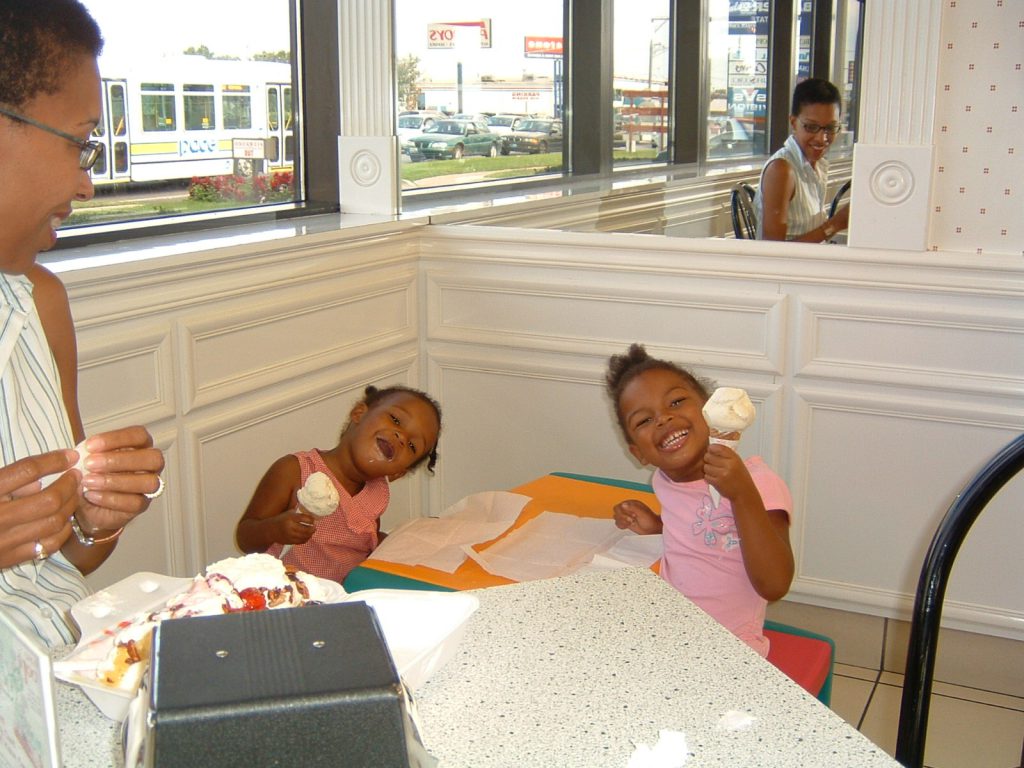 Sharing a treat with the littles at Shawn Michelle's.
To Allison, her love for family and legacy is all about Chicago. And her support is her way of saying "thank you."